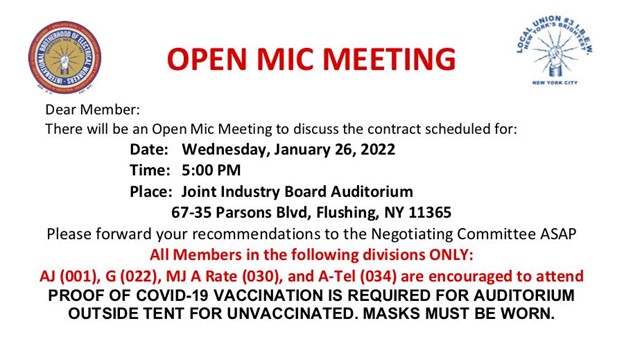 This postcard notice regarding the Open Mic Meeting on January 26, 2022 has been mailed to the members of the following Divisions only: AJ (001), G (022), MJ A Rate (030), and A-Tel (034).
Active and retired members are encouraged to send letters with suggestions, thoughts, and ideas to Local Union No. 3, IBEW, Attention: Negotiating Committee, 158-11 Harry Van Arsdale Jr. Ave., Flushing, NY 11365.
Please note that proof of COVID-19 vaccination is required for access inside the auditorium. The outside tent will be available for unvaccinated members. Masks must be worn in all locations.