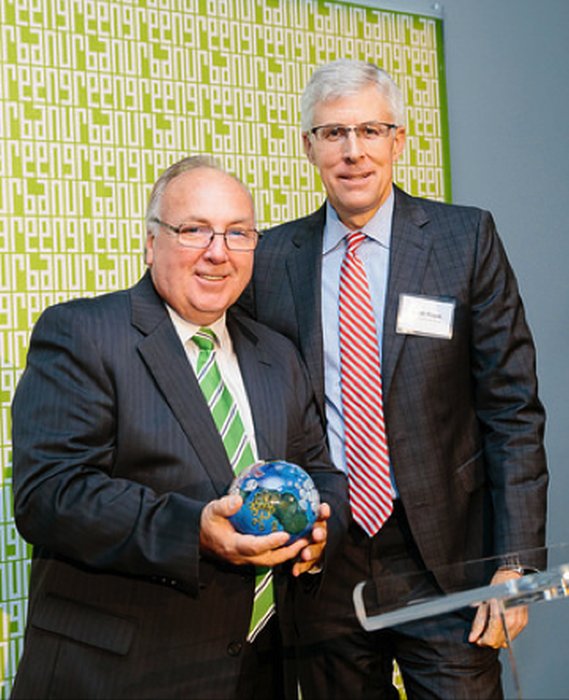 Honoree, Business Manager Christopher Erikson and Incoming Urban Green Chairman Scott Frank.
On November 10th hundreds of Green Professionals attended the Building a Greener New York Gala hosted by the Urban Green Council to show their support for the Greening of New York City. This year the Council honored two Green advocates for their contributions to sustainability and the building industry ‰ÛÓ Local 3, IBEW Business Manager Christopher Erikson and U.S. Green Buildings Council (USGBC) CEO Rick Fedrizzi.
The evening was kicked off with remarks by Urban Green Board Chair John Mandyck of United Technologies. He took the opportunity to thank the hundreds of attendees who came to show their support for the mission of the Urban Green Council. He was followed by the Council's Executive Director Russell Unger who facilitated a green trivia quiz. The questions focused on the issues of the new energy code and just how much energy New York's buildings use for heating. The winners were announced later in the program by Silda Wall Spitzer of New World Capital and Vice Chair of the Urban Green Council Board. She narrowed the field by picking the high-scorer whose birthday fell closest to the date of the Gala and then presenting an Urban Green tote bag to Local 3 Executive Board member Richard McSpedon, Jr. for winning the quiz contest.
Business Manager Erikson was welcomed to the podium by incoming 2016 Board Chair Scott Frank of Jaros, Baum & Bolles. He remarked how Chris Erikson was chosen to receive this honor as an innovative leader of New York City's working men and women and that the award recognizes the bold, pioneering position he has taken on the subjects of global warming and climate change. He emphasized how Erikson has demonstrated a commitment to a green workforce through initiatives such as Urban Green's certification program, GPRO (Green Professionals) and how Erikson's show of support leading up to the September 2014 People's Climate March encouraged many organizations to come forward to endorse the march, helping to make a success of the historic event that rallied 400,000 people.
Business Manager Erikson opened his remarks by thanking his friends & family for attending the Gala. He also recognized his wife Denise as an ardent advocate of solar power and her continued urging to install
solar panels on their home. He congratulated co-honoree Rick Federizzi, stating that he is a man with vision. As the founder of the USGBC, he has led an amazing organization; one that has transformed our world, our industries, our lives and our thinking of how together we can make a real difference for the future of our planet and those generations who will inhabit it. He thanked Rick and his associates for making a tremendous impact on how we build in NYC and across the globe. He continued by commenting on this year's Urban Green Council's EBIE Awards ceremony that recognized the talented professionals that led the way in conceiving and implementing strategies that made their buildings more sustainable and cost effective. He went on to recognize the Council's Director of Education Ellen Honigstock for the collaboration with Local 3 and the unionized electrical industry for the creation of the electrical module in the GPRO Skills Training Program and the integration of that program into the apprentice and journeyman training of Local 3 members. Business Manager å_Erikson remarked how Local 3 is very proud of the recent installation of Green technology performed by our members in Staten Island. He said that when PS 62R opens it will be the first school in the five boroughs and in the northeastern United States that can claim to be Net Zero. The success of PS 62R is the perfect example of what highly skilled qualified tradespeople bring to the table. The school which features a photovoltaic exoskeleton, a wind turbine, energy generating exercise bikes, a geothermal heating and cooling system and a highly efficient LED lighting system with daylight harvesting and dimming capabilities, will serve as a pilot site for schools across the country. He concluded his remarks by stating:
"We can fix this. When people of good conscience come together there will be change. History has demonstrated it many times over that we are capable of changing course and changing history. This however is an economic battle. Powerful corporations with much to lose will not just surrender; they will resist any effort to regulate an industry that has a dismal record of any real concern for the environment or the safety and health of our planet and ultimately mankind. The transition to renewable energy will affect workers. Jobs, good union jobs will be lost as we close fossil fueled power plants and expand the installation of green technology. As a trade unionist who wants to see this transition happen, I must also be mindful and stay vigilant that the jobs lost are not replaced by a low-wage, limited skilled workforce." Mandyck then returned to the stage to introduce his friend and colleague Rick Fedrizzi. With over 1.85 million square feet of construction space certified every day, said Mandyck, "it's hard to overstate the impact of the LEED (Leadership in å_Energy & Environmental Design) certification å_domestically and globally." With 2016 as his last year helming USGBC, Fedrizzi focused his remarks on the possibilities of the future rather than the many accomplishments of the past, lauding the local organization that does the work of sustainability every day and that since its establishment in 2002, the Urban Green Council as the New York Chapter of the USGBC has worked tirelessly to govern the LEED building standards in New York by providing education, advocacy and research to advance the sustainability of urban buildings. He encouraged all in attendance to continue to support the USGBC and its mission of sustainable building construction.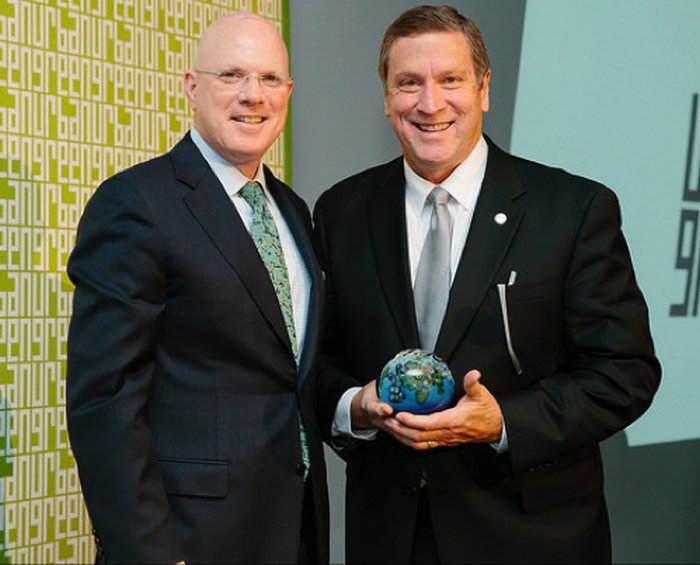 Urban Green Board Chairman John Mandyck and honoree U.S. Green Buildings Chairman Rick Fedrizzi.