Message from Business Manager Chris Erikson
It's far from over, however, we are starting to sense a return to normal. The Joint Industry Board has announced that temperature checks and mask requirements will no longer be required at the building. Local 3's offices will reopen, and members can access the 4th floor. Masks will still be required at the Medical Department. The City has rescinded the vaccine requirement in order to work in NYC and unvaccinated members can register for employment effective November 1st. The Clubs and Divisions have been holding in-person events again and attendance at union meetings is improving, so I urge you to make every effort to get back to the meetings.
I remain cautious because people are still testing positive for Covid. Kids at school and people at work should remain vigilant. Unfortunately, our lives have been changed forever, and we really don't know what the future holds. Research on the effects of "long Covid" is still evolving. My heart goes out to those who are suffering because of the loss of a loved one due to Covid. So many feel the long-term effect of that loss on those who suffer, maybe silently, and may never get over it.
Updates from October General Membership Meeting
Listed below are some of the news updates announced at the latest General Membership Meeting on October 13:
October is Breast Cancer Awareness Month. Outside the entrance to the meeting, the Amber Light Society sold t-shirts to raise $1,361.
 
Blood Donor Drive hosted at the JIB on October 7.
 
October is Italian American Heritage Month. The Columbus Festival took place in the Electrical Industry Center Auditorium on Saturday, October 15.
 
Local 3 IBEW Disaster Fund met on September 12. 143 dependents of 9/11 victims receive death benefit monthly check.
 
IBEW Photo Contest open to IBEW members and retirees. Deadline is November 1.
 
College Advisory Day on November 19 at the Electrical Industry Training Center in Long Island City, Queens.
 
2022 Holiday Show "Jack Frost" on December 4 at the Electrical Industry Center Auditorium. Must request tickets in advance from the Educational and Cultural Trust Fund.
 
Election Day is November 8. Early voting in NY takes place October 29 through November 6. Absentee ballots must be requested by application by October 24.
 
Vote "Yes" on Proposal 1 (NYS Environmental Bond Act).
 
Standard security protocol at the Electrical Industry Center will change on October 24. First check in with security for appointments and walk-ins will be directed to the Welcome Center. Masks optional and temperature screening at the entrance will cease. Masks will be required still when visiting JIB Medical.
 
16 members currently in active military service (U.S. Army, Navy, Army Reserve, Marine Corps, and National Guard). The Local 3 Veterans Club welcomes new members.
 
1 Herald Square property as a potential classroom space for the Apprentice Program's theory courses, with E&C Fund as the lessee.
 
Adjustments made during the last 'A' negotiations has led to new Market-expansion jobs thanks to the Target Fund.
 
Next "A" and MIJ exams are on November 19.
 
NYS requires class certification for road work. Contact the E&C Fund at (718)591-2000 ext. 1530.
 
Hiring CDL-licensed drivers in the Supply Division.
 
7,000 Hotel Trades Council (HTC) members are still unemployed, but 80% capacity at hotels that are open.
 
JIB Trustees meeting on October 12.
 
No safety incidents for second consecutive month (Safety Director Cornelius Skeahan).
 
Legislature out of session until January (Lobbyist Cornelius Skeahan).
 
Mayor Adams is visiting the Training Center on October 24.
 
Building & Construction Trades Council Executive Board met on September 12. Dispute with Laborers' union over conduit work on the Champlain Hudson Power Express direct current transmission line (a TDI development project). Presentation by National Grid and REW Renewables consolidate partnership and move forward on offshore wind development.
 
NYC Central Labor Council Executive Board met at Cutchogue, Long Island on October 4. Joined by Robert Zimmerman, Democratic candidate for Tom Suozzi's congressional seat CD 3. Resolutions on: Proposal 1 - NYS Environmental Bond Act (Resolution), Racial Justice Proposals to City Charter in NYC (Resolution), and FIFA 2026 (calling on hosts cities and countries to enact strong labor standards to set global standards for future World Cups).
 
Business Manager's Message in the latest Rank & File, "Greatest Beer Run Ever", about the value of unions and community. Editorial in the Union World September 2022 issue, "It's Our Time".
 
The next General Membership Meeting is on Thursday, November 10.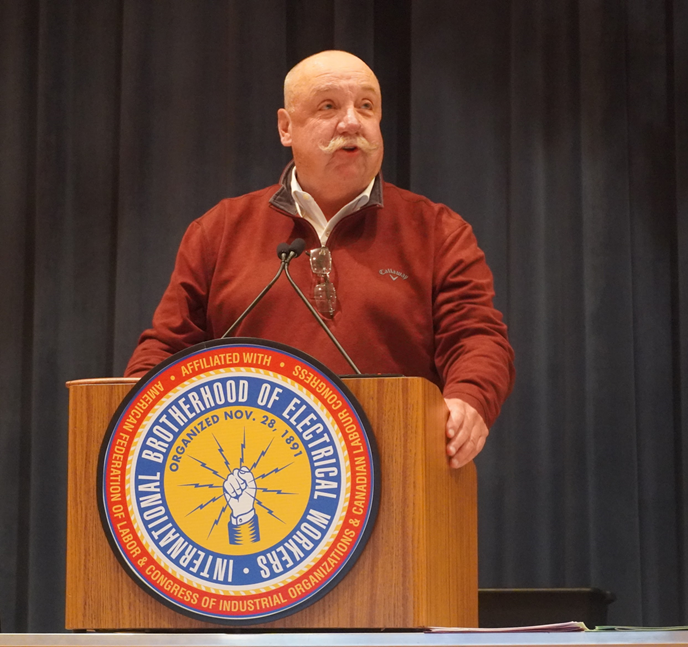 At the October 13th General Membership Meeting, retired Business Representative and Union World Managing Editor John Baker's biography was read by Business Manager Christopher Erikson, noting the Baker family's contributions to our union. John gave a speech to the auditorium and told his brothers and sisters, "Leave this union better than you found it."