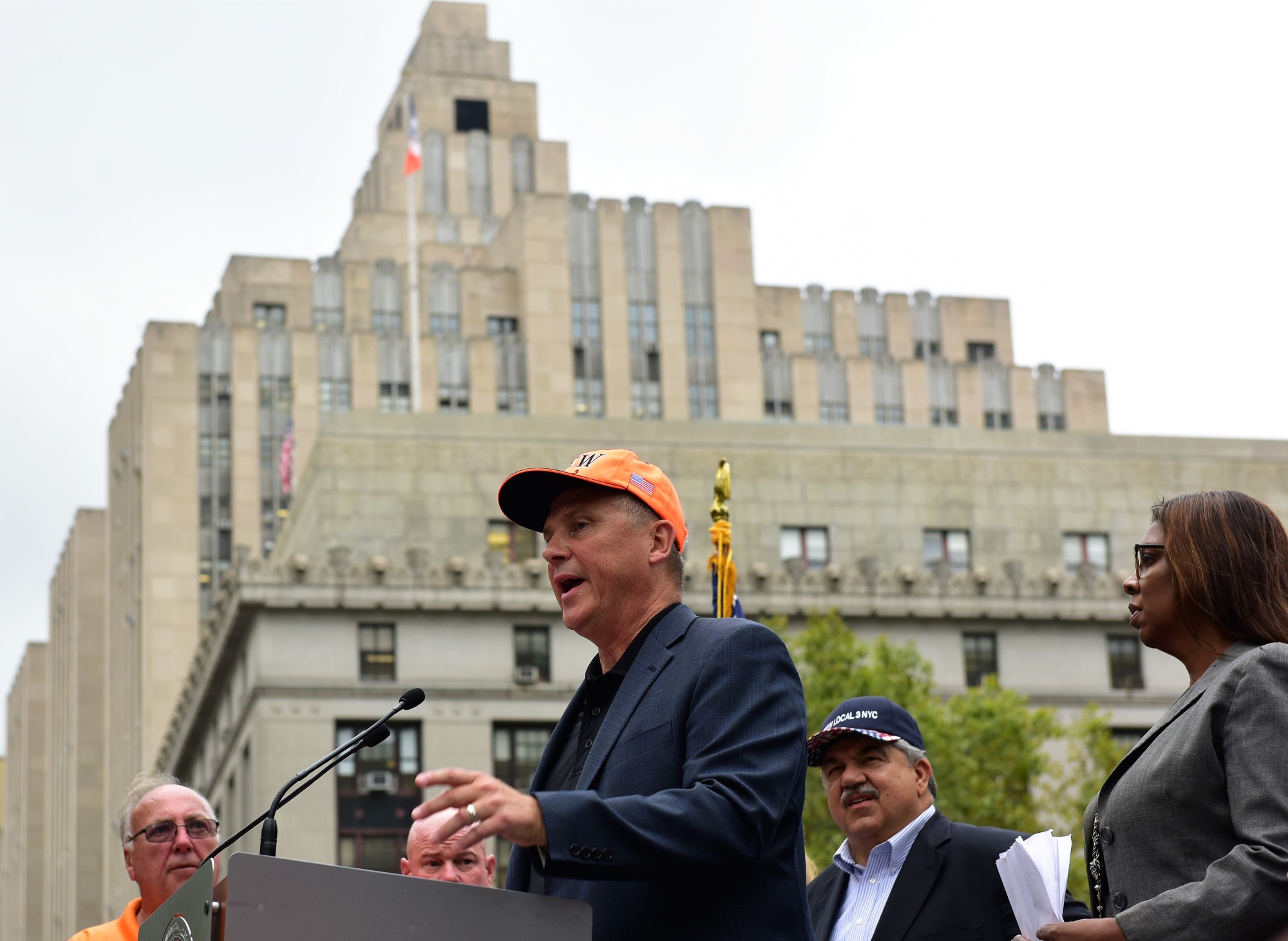 IBEW President Lonnie R. Stephenson addresses Local 3 supporters in Manhattan. Also pictured are Business Manager Christopher Erikson, AFL-CIO President Richard Trumka and NYC Public Advocate Letitia James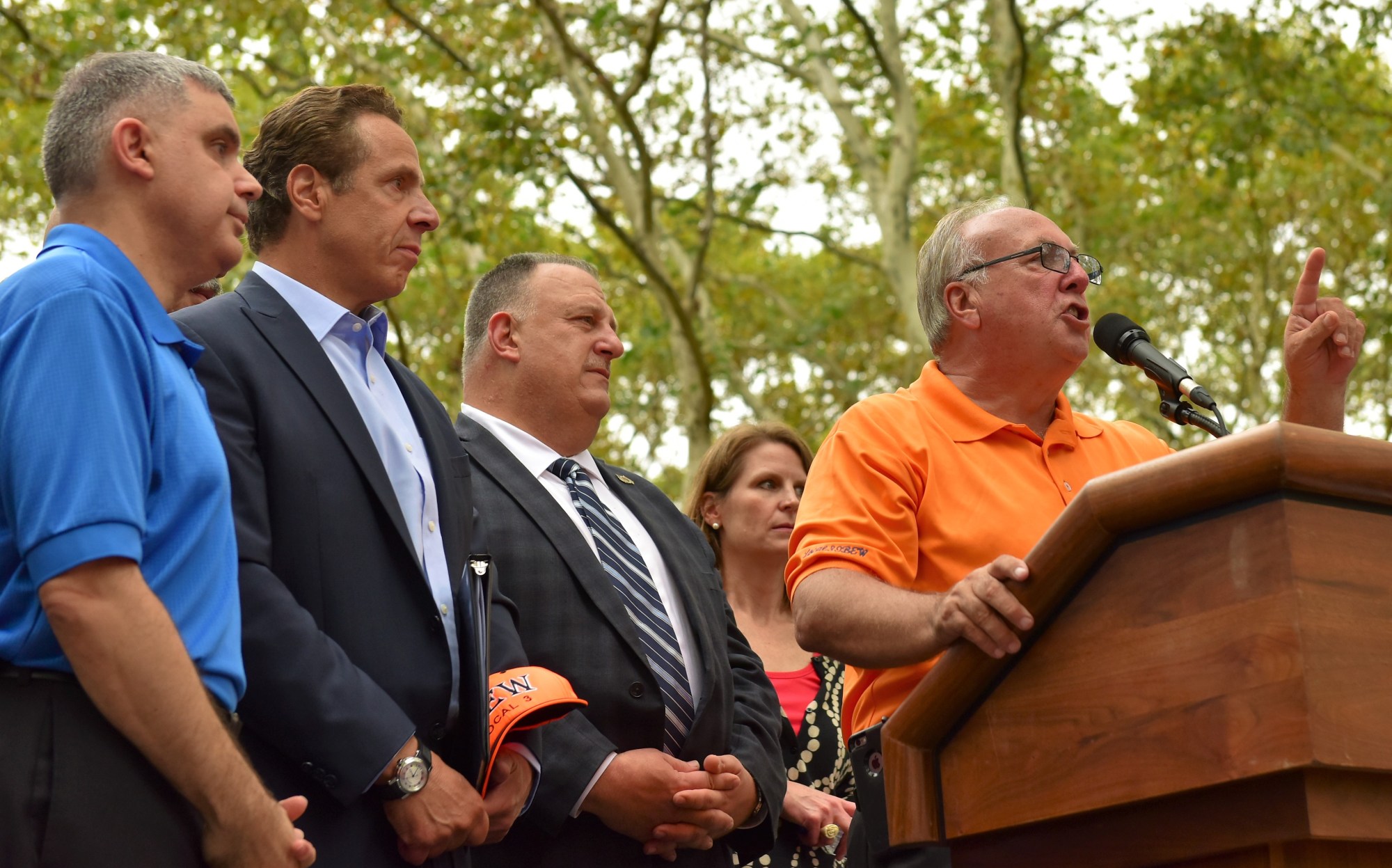 Business Manager Christopher Erikson fires up the crowd in Brooklyn as NYS AFLCIO President Mario Cilento, NYS Governor Andrew M. Cuomo, BCTC President Gary LaBarbera and AFL-CIO Secretary-Treasurer Liz Shuler look on.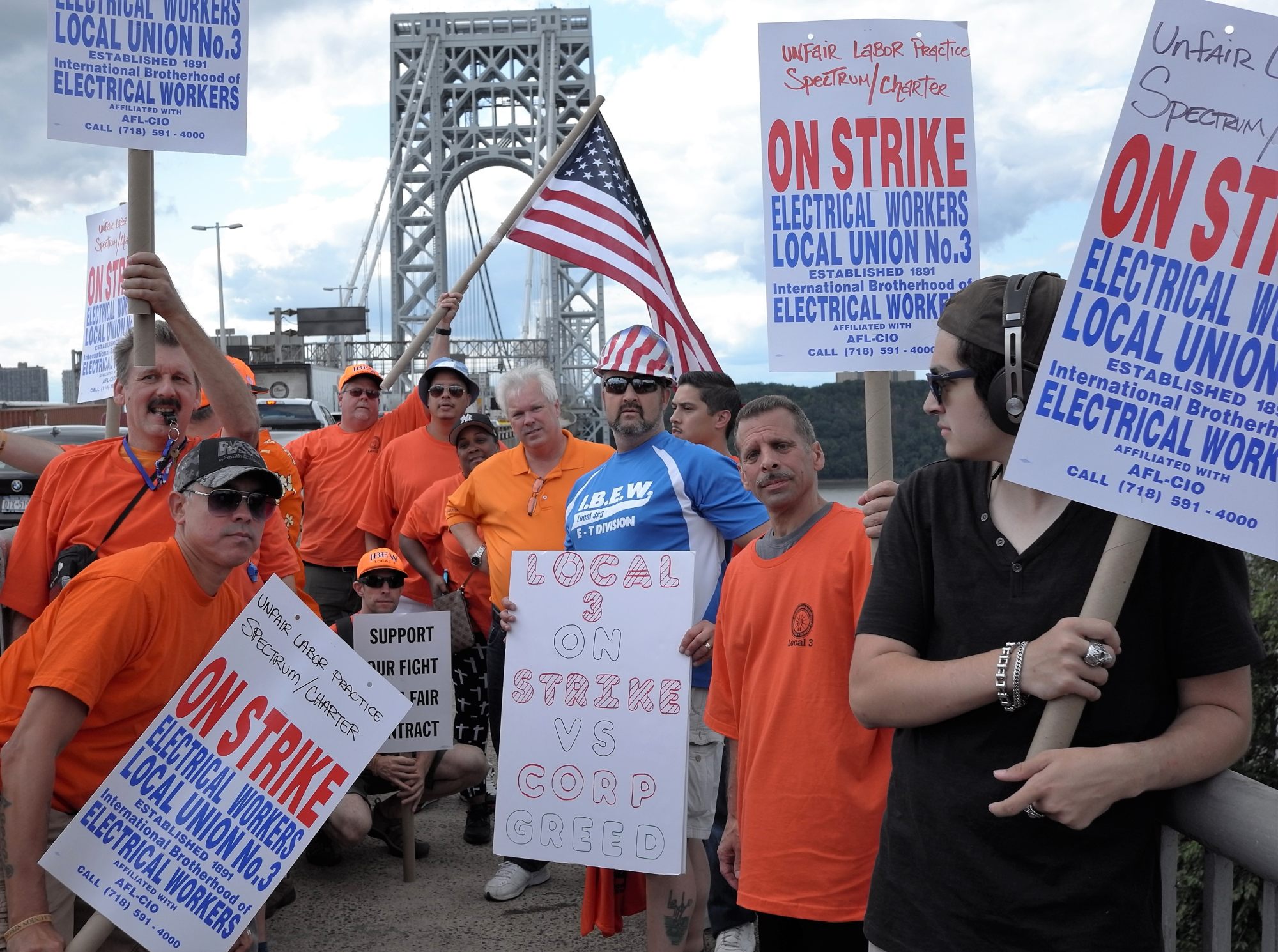 Business Representative Sean Fitzpatrick (center) pictured with striking Spectrum workers.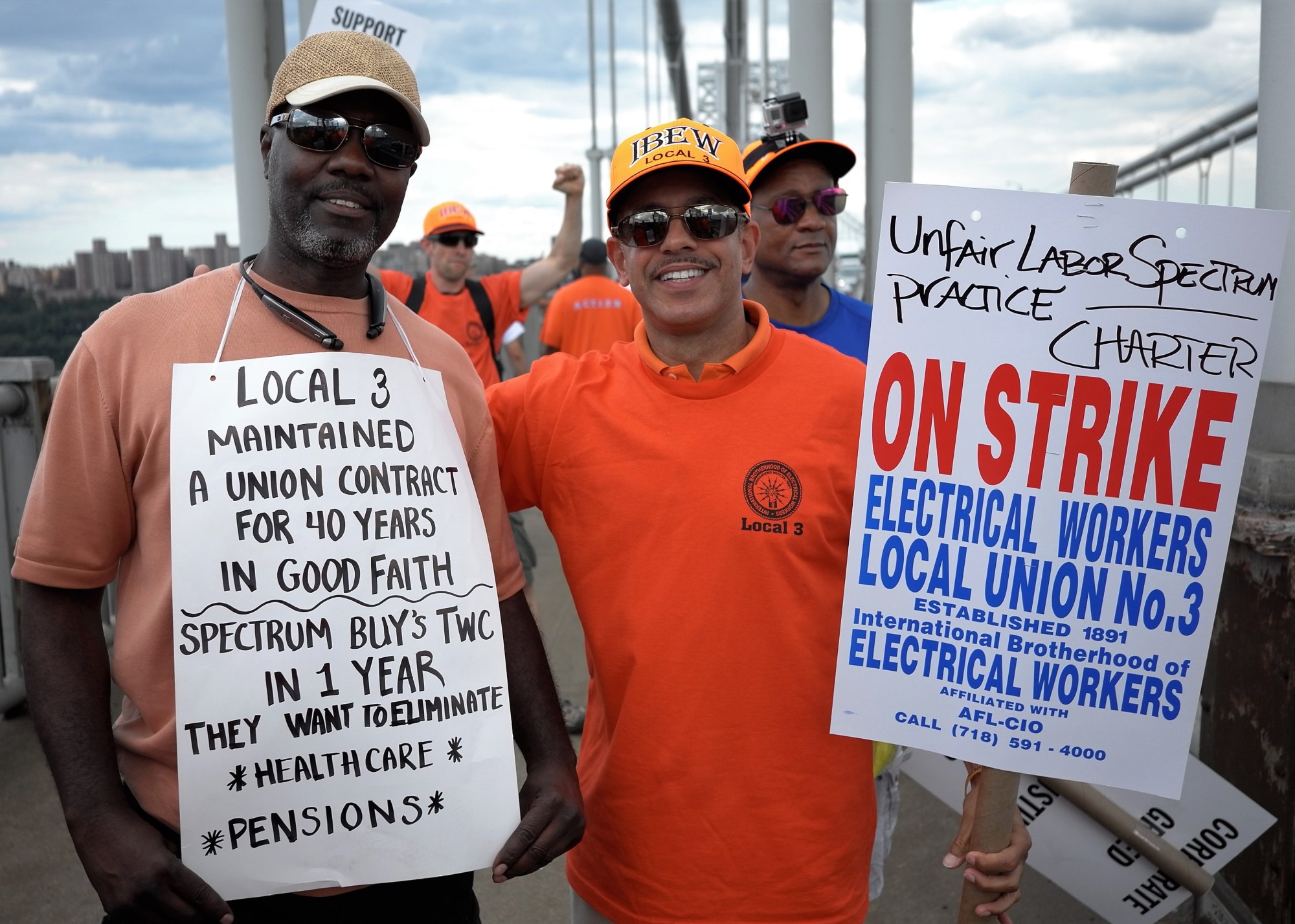 Local 3 brothers on strike against Spectrum let the signs tell the story of the unfair practices they are up against.
On September 18, 2017, thousands of union members from across New York City marched across the Brooklyn Bridge in an impressive stretch of solidarity with the 1,800 Local 3, IBEW families who have been on strike from Charter/Spectrum for over six months. Dozens of unions rallied in Cadman Plaza before proceeding over the Brooklyn Bridge to a gathered demonstration at Foley Square in Manhattan.
IBEW Local 3 cable technicians who work for Charter Communications/Spectrum have been on strike since March 28th when workers voted to walk off the job over the company's refusal to continue paying into their health and pension plans which Time Warner Cable had done for the past 40 years. In the six months that the workers have been on strike, Charter/Spectrum has refused to concede on these benefits despite the fact that CEO Tom Rutledge is one of the highest paid in the country who was paid $99 million last year.
Spectrum is a subsidiary to Charter Communications, the second largest cable provider in the United States, providing services to roughly 25 million customers in 41 states, two and a half million of which reside in New York. Spectrum has offered a raise which Local 3 officials have said would not offset the proposed cuts in pensions, 401(k) plans, health benefits, paid holidays, accrued sick time and contributions to the Educational & Trust Fund that allows employees and their spouses to attend college. Spectrum has since brought in scabs and nonunion subcontractors to undercut union wages and reduce the union workforce while the company is failing to keep up normal operations. The rally made it loud and clear to Charter/Spectrum that Local 3 does not quit and the entire labor movement has their backs.
Local 3, IBEW Business Manager Christopher Erikson engineered the rally that brought AFL-CIO President Richard Trumka and IBEW International President Lonnie Stephenson to New York to support the workers joining NYC CLC President Vinny Alvarez, NYS AFL-CIO President Mario Cilento, Governor Andrew Cuomo, Mayor Bill de Blasio, NYC Public Advocate Letitia James and NYC Comptroller Scott Stringer in addressing the rally about the need for Charter/Spectrum to get back to the table to negotiate in good faith with Local 3.
The cloudy morning began in Brooklyn's Cadman Plaza Park as a huge outpouring of thousands of union members, their families and supporters gathered to hear the speeches that kicked off the massive demonstration. The quiet park that had reached the end of summer was now transformed into the tipping point of the labor movement in New York filled with workers in colorful shirts, electrified with shouts and whistles as our leaders in Labor began to speak.
Raucous delegations from all across the AFL-CIO were represented including allies from SEIU, the International Brotherhood of Teamsters, the United Brotherhood of Carpenters, the Uniformed Sanitation Association, CSEA, PBA, the Sheetmetal/Air/Rail/Transportation Workers (SMART), Sheet Metal Workers Local 28, International Union of Operating Engineers Local 15, and many other city unions.
Business Manager Christopher Erikson told the crowd that he hoped this march and rally would wake up the corporation and make them understand our resolve to negotiate in good faith to retain the pension and health benefits of the striking division. The Catholic Council of Electrical Workers Chaplin Father Brian Jordan, OFM blessed the strikers, the marchers, and the rally with his trademark zeal.
New York State AFL-CIO President Mario Cilento made clear that Monday's rally was not just in support of the striking Spectrum workers but in support of keeping good middle-class jobs in our communities. "We will march on behalf of these working
men and women and all working people
who refuse to allow corporate giants like Charter/Spectrum to put profits ahead of fairness."
When speaking about the causes behind the thunderous rally, New York State Governor Andrew Cuomo cited the deterioration of respect for working men and women declaring, "The vehicle in this economy to get fairness is the labor movement. The union is the equalizing force at the bargaining table, and that's why corporate America is trying to destroy the unions."
With that, thousands of demonstrators with all of their flags and whistles flooded the roadway beneath the Brooklyn Bridge. They climbed a narrow set of stairs and quickly filled the pedestrian portion of the bridge above. When motorists on the bridge realized that the huge moving body of protestors was a union rally, they started honking rhythmically in support.
The people kept coming: union supporters kept coming up the stairs, filling the footbridge and marching toward Manhattan.
On the far side of the bridge, Local 3 brothers and sisters were already in place to guide the demonstrators up to the rally at nearby Foley Square. Turning north, everyone passed the classic inflatable rats that had been displayed to remind us all of how low the leadership of Spectrum would stoop to protect their own financial interests.
On a flatbed truck in Foley Square, Business Manager Christopher Erikson thanked the labor movement in New York for showing up and standing up to corporate greed. He told the crowd that dignity, security in retirement and medical coverage is what is at stake in this dispute. He said that Charter/Spectrum was trying to starve its Local 3 members into submission and this cannot continue. "I believe that this will be the day that the labor movement stood together and said 'Enough.' Our march today is not the end or the beginning. This march started long ago when people stood up and said that women have a right to vote, when they marched to eliminate sweatshops and child labor, when they marched to demand public education for all children and civil rights for all Americans, when they marched to end the war in Vietnam and apartheid in South Africa, and their voices were heard and there was change." Business Manager Christopher Erikson urged everyone to dump Spectrum if they had not done so already.
President Trumka in a rousing speech told workers, "Your hard work made Charter Cable one of the most profitable companies in the United States, $3.5 billion dollars they made last year. You did that! Local 3 members did that! So where is the company? Get to the table today and negotiate a contract."
"This is Charter/Spectrum and other corporations seeking to dictate their own selfish terms of employment on these middle-class workers, while stripping them of the rights and benefits they have earned, and paid for. These hardworking men and women who want nothing more than to be able to provide for themselves and their families," said NYC CLC President Vincent Alvarez.
Thanks to all that showed up and supported our brothers and sisters on strike in helping get Spectrum back to the negotiating table.
ALL PHOTOS FROM THE SEPTEMBER 18, 2017 SPECTRUM STRIKE RALLY:
[gallery type='picasa' user_id='webcalendar@local3ibew.org' album='6468246316532275217' access='public,protected,private' layout='random']