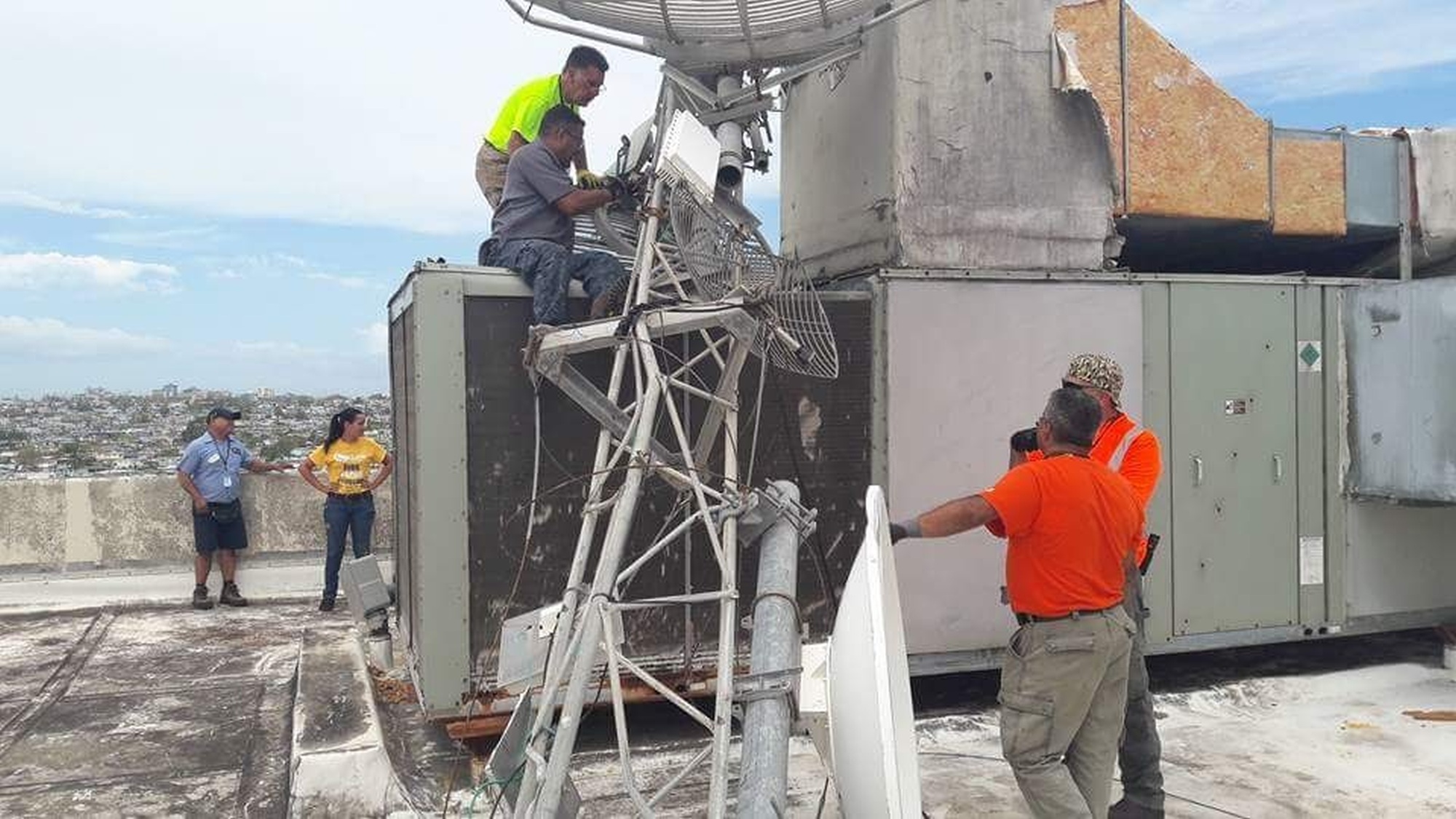 Air conditioning unit being repaired by Local 3 volunteers.
Pictured are just a few of the thousands of volunteers who helped after Hurricane Maria.
As Americans we take for granted basic resources provided by infrastructure we forget even exists. Never mind electricity for air conditioning or communication for our cell phones, crucial life-sustaining resources such as water or shelter can be lost in a matter of seconds by an act of nature. We can also take for granted what our learned skills can provide in terms of relief to our fellow citizens when their lives depend on it. On September 20th Hurricane Maria tore across the U.S. island of Puerto Rico, causing unimaginable destruction to buildings and infrastructure. Two weeks after the storm members of Local 3 responded as part of a massive relief effort comprised of 330 volunteers in the medical field, transportation and construction trades as well as 11 more members within the IBEW's Locals of Miami's 349 and 222 and Georgia's 613; this effort was coordinated by the national AFL-CIO. Local 3 members made a difference by helping bring relief to a small percentage of the total population one small job at a time. Just as in a construction project of any size, it is completed one
accomplishment at a time.
Beginning on October 1st, immediately after answering calls from Business Representative Bennie Arana and Executive Board member Louie Alveraz as team leader, 15
Local 3 members, with few details and conditions known, packed for a two-week leave. One week later another team of Local 3 members responded to a call from the Port Authority of Puerto Rico to help rebuilding efforts at the airport and shipping piers of San Juan. During the second week's stay, a brother by the name of Joe Rufrano, who had been trapped on the island while visiting family, reached out and walked on as a volunteer to help in the relief effort.
Although transportation to the island was donated by United Airlines and basic room and board provided by the city of San Juan, it was understood this project was to be performed for no pay. The destruction of Puerto Rico was akin to that of Hurricane Sandy, of which our members are all too familiar; the difference was that only days after taking severe damage from Hurricane Irma, Maria knocked out nearly all forms of electricity, communication, transportation and other utilities on the island. The calamitous storms left 3.5 million Americans in dire need of help on an island where relief from the mainland can only be brought by air or sea. As of the time of this writing, two months after the initial hurricane, nearly 70% of Puerto Rican households are still without power and other basic necessities.
Our members arrived on October 4th and immediately manned jobs requiring many different skills aside from electrical work. Tasks such as cutting tree limbs, clearing roadways for vehicular traffic, handing out food and water, translating for nurses as well as helping family members living on the island were just some of the accomplishments providing relief to a devastated population. No words can express the pride in one's self yet how humbling it is to have a skill set put to use to help the lives of people suffering. One such task was that of bringing life-saving water to communities in desperate need. In a collaborative effort with an organization called Operation Blessing, a team comprised of chemists, operating engineers and our very own brothers Manny Yllescas, Francisco (Cisco) Bueso and Chris Nunez were tasked with the installation of water filtration systems to communities throughout the island such as the towns of Loiza, San Lorenzo, Barcalonetta, La Pela and Lares, to name a few, as well as an orphanage in San Juan. These systems, which can provide up to 1,800 gallons of potable water a day, could desalinate water in coastal towns or purify water from mountain springs for towns located in remote locations without functioning water pumping stations. As these systems are powered by generators, our electricians were instrumental in helping set them up as well as providing some plumbing skills and on-the-spot problem solving. Before the units were even complete townspeople were forming long lines, carrying any type of water-tight container.
On occasion electricians would stay behind at the compound where they were housed on stand-by should any electrical job or emergency arise. There are times a tradesperson may not have either the necessary tools nor the training to solve problems that may be encountered. Sometimes you are left with not much more than your pocket tools, a hammer and confidence you will complete a task by means of your wits and resolve. On October 5th such a call came in for help at the San Juan Municipal Hospital. Part of the air conditioning system in the hospital was not working since the storm and temperatures were creating unlivable conditions for patients at the hospital. Brothers Jason Rivera, Tony Ramos and Rich Ruiz responded to the emergency call. The problem was two-fold: the air conditioning was not working because of a damaged cooling tower and a non-functioning generator due to improper wiring before the storm hit. Our brothers, along with help from a Teamster driver and an operating engineer, got the cooling tower up and running and rewired the generator. Thanks to the resolve and resourcefulness of our brothers, patients could continue to receive medical care.
As electricians we can learn skills from other tradesmen. During the second week we received a special request from Mayor Carmen Yulin Cruz of San Juan to repair a roof that had been terribly damaged. The house was owned by family of special interest within the community (the ten-year-old son is a prodigy with a strong desire to become an astrophysicist and the father had helped many of his neighbors secure their properties). During the two-week stay helping rebuild roofs was performed by many of our members but no roof had been replaced in its entirety like this one. Brothers Len Copicotto, Fred Torres, Patrick Glennon and Danny Nguyen rose to that challenge. Along with two accomplished carpenters from the United Auto Workers union, our brothers spent an entire week planning, demolishing, cleaning and rebuilding the house of the Jose family in Caimito. Local news outlets reported on the effort and our brothers, along with the brothers from the UAW and a Teamster driver, have become local heroes. Heroes do not only wear uniforms, scrubs or fatigues but tool belts and hard hats as well.
Calamities like Hurricane Maria can bring out the best in people. With climate change, similar disasters will continue to occur. Helping people get back on their feet is a way for communities to come together. Puerto Rico may be an island and not a state of the union but it's our island, home to American citizens no different than those who live in Florida, Texas or NY. The crude conditions in which our members lived for two weeks is nothing compared to what the inhabitants of Puerto Rico have endured for two months, keeping us focused and humble. The new bonds formed among our members are stronger than before and because of that the brotherhood of the IBEW as a whole has been strengthened. The work performed by our brothers and one sister has been an inspiration to all who were involved to become even better members of our society, better members of Local 3 and better global citizens.
A special acknowledgement to our Local 3 members who selflessly gave two weeks of their lives and income to help the inhabitants of Puerto Rico:
Initial 15: Francisco (Cisco) Bueso, Len Copicotto, Marc Estrada, Kevin (KC) Glennon, Patrick Glennon, Lina Lopez, Edwin Napoleoni, Danny Nguyen, Chris Nunez, Tony Ramos, Jason Rivera, Rich Ruiz, Freddy Torres, Manny Yllescas and team leader Lou Alvarez.
Joe Rufrano as a walk-on while in Puerto Rico.
Port authority five: John Berenson, James Proctor, Anthony Rodriguez, Cosmo Soltren Jr. and team leader James Andino.
Also a special mention: Puerto Rico is in Local 349s jurisdiction with William Riley overlooking as business manager and our IBEW brothers from Locals 349, 222 and 613 who also volunteered in Puerto Rico and gave as much as any of us.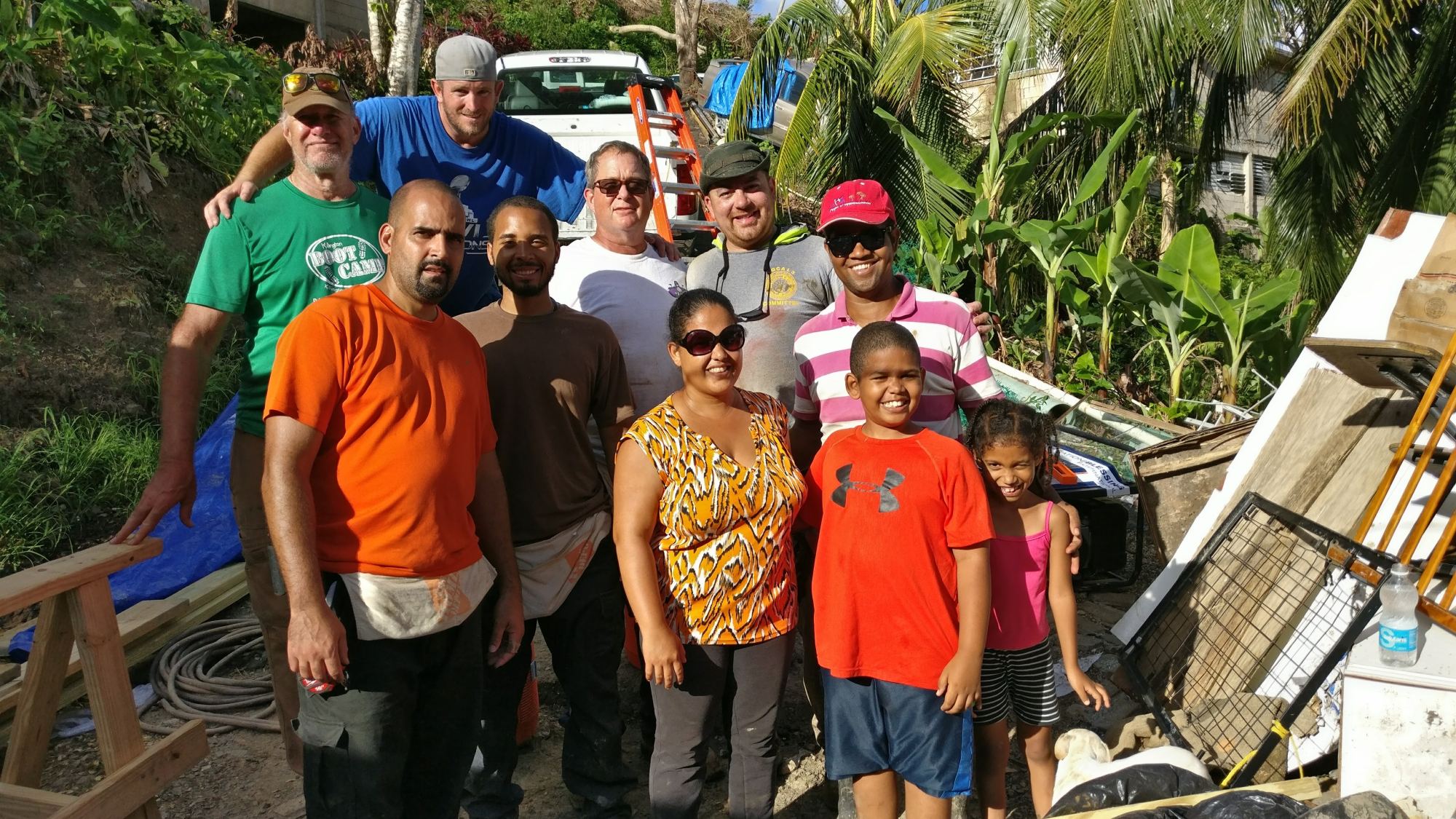 Some of the Local 3 volunteers pictured with residents of Puerto Rico affected by Maria.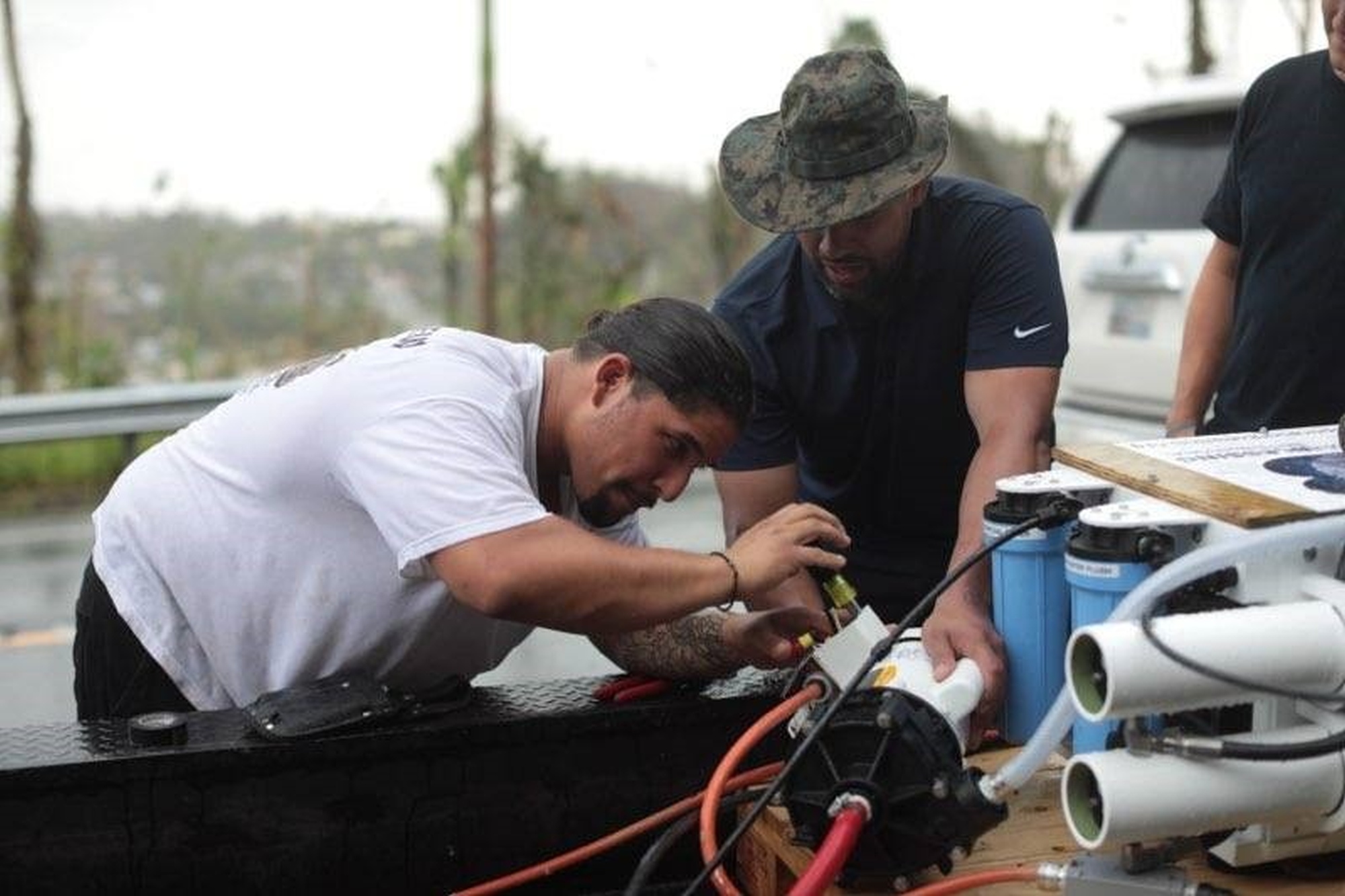 Local 3 journeymen performing one of the many tasks that were assigned to them.