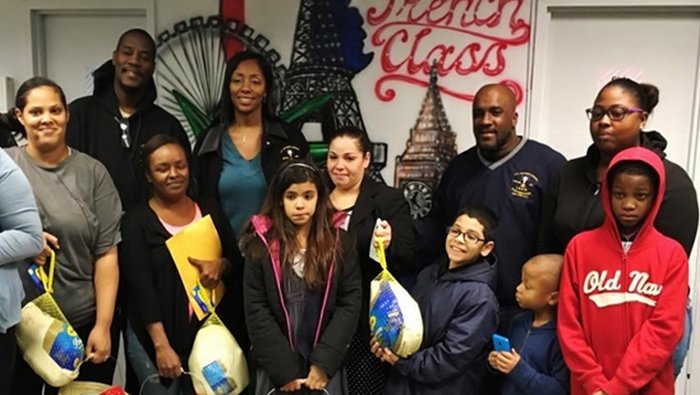 Pictured in the back row: Chairman/1st Vice President Will Smith (2nd from the right) and Co-Chairwoman/Corresponding Secretary Brownette Cooke (3rd from the left) of this event. Front row, the families of West Harlem Residence Family Shelter.
As the holidays approach, many families struggle to afford housing around the city and struggle to put food on the table. With the generosity of the Latimer officers, Latimer members and the Javits Center electricians, they were able to provide 45 Thanksgiving dinner baskets to the families of the West Harlem Residence Family Shelter. Each family received a 15 lb. turkey and a basket of the trimmings. Each basket contained mashed potatoes, corn bread, stuffing, canned vegetables, cranberry sauce and macaroni and cheese.
On November 21, 2015, The Lewis Howard Latimer Progressive Association, NYC Young Workers and the "A" Apprentice Advisory Committee visited the West Residence Family Shelter to distribute Thanksgiving baskets. There were over 30 volunteers which included Business Representatives Rick Rollins and Derek Jordan, Executive Board member Marc V. Brown, Examining Board member William G. Riley Sr., Assistant Employment Director Joseph Hester and Latimer President Melvin Smiley Sr.
Upon arrival, the volunteers were greeted by the Social Service Supervisor of the West Harlem Residence Family Shelter, Detria Wisdom. Mrs. Wisdom thanked everyone for volunteering their time and for their donations to the families living there. Once the residents arrived, they were greeted by Chairman/LHLPA 1st Vice President Will Smith and Co-Chairwoman/LHLPA Corresponding Secretary Brownette Cooke and the volunteers. The families were very grateful and thanked the volunteers and Local 3 for the ability to feed their family with a Thanksgiving meal.