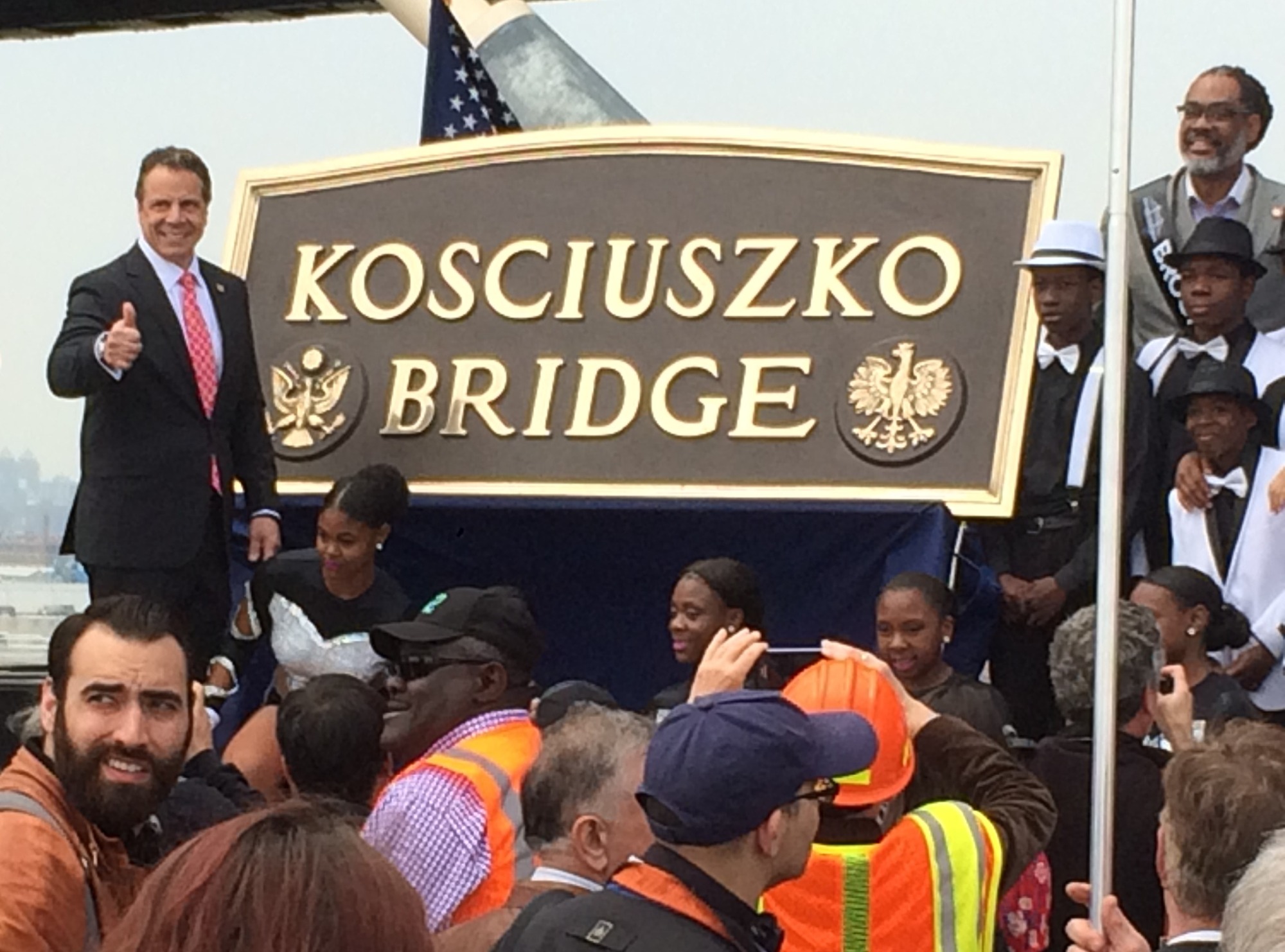 Gov. Cuomo opens the eastbound side of the new Kosciuszko Bridge.
On December 4, 2014 work began on the eastbound bridge. By August 2015 the pylons for the eastbound side, as well as part of the bridge structure were under construction. The 287-foot high pylons were sunk 150 to 185 feet resting on four foundations at that depth. Once this was completed the supporting steel and concrete deck section, called a pier table, was built between the two pylons. The other sections were then built outward from the pier table with two cables, supporting each section.
This is what gives a cable-stayed bridge its look. This design created a 1,001 foot long and 99 feet wide deck supported by 56 steel cables in total. The cables contain one million linear feet of steel cable strands. A 4,000 short ton counterweight was built on the westbound side to make up for the eastbound section being heavier and longer. 3,850 tons of structural steel was used to construct the bridge which was manufactured in the United States. The new bridge was built to withstand a century worth of traffic.
The first phase which was the building of the eastbound passing was completed seven months ahead of schedule. To celebrate the completion of the first portion of this project, delegates from both sides of Queens and Brooklyn marched from each side of the bridge meeting at the grandstand at the middle of the bridge. Given that the bridge was opened during President Roosevelt's administration in 1939, Gov. Cuomo rode across the center of the threshold of the bridge in FDR's 1932 Packard officially starting the ceremony.
Cuomo told the crowds "the opening of the first span of the KB is a major milestone for New York City; this bridge will serve hundreds of thousands of commuters daily. The same name will be kept for both structures upon completion, to commemorate General Tadeusz Kosciuszko. Following the day ceremony there was a night celebration which included iHeartRadio playing music which riders could tune into and watch a synchronized LED light show that was installed by Local 3 members employed by EJ Electric which would shine on the newly built bridge. Local 3 was there on standby to make sure the light show went on without a hitch.
Local 3 members employed by EJ Electric who worked on the project.