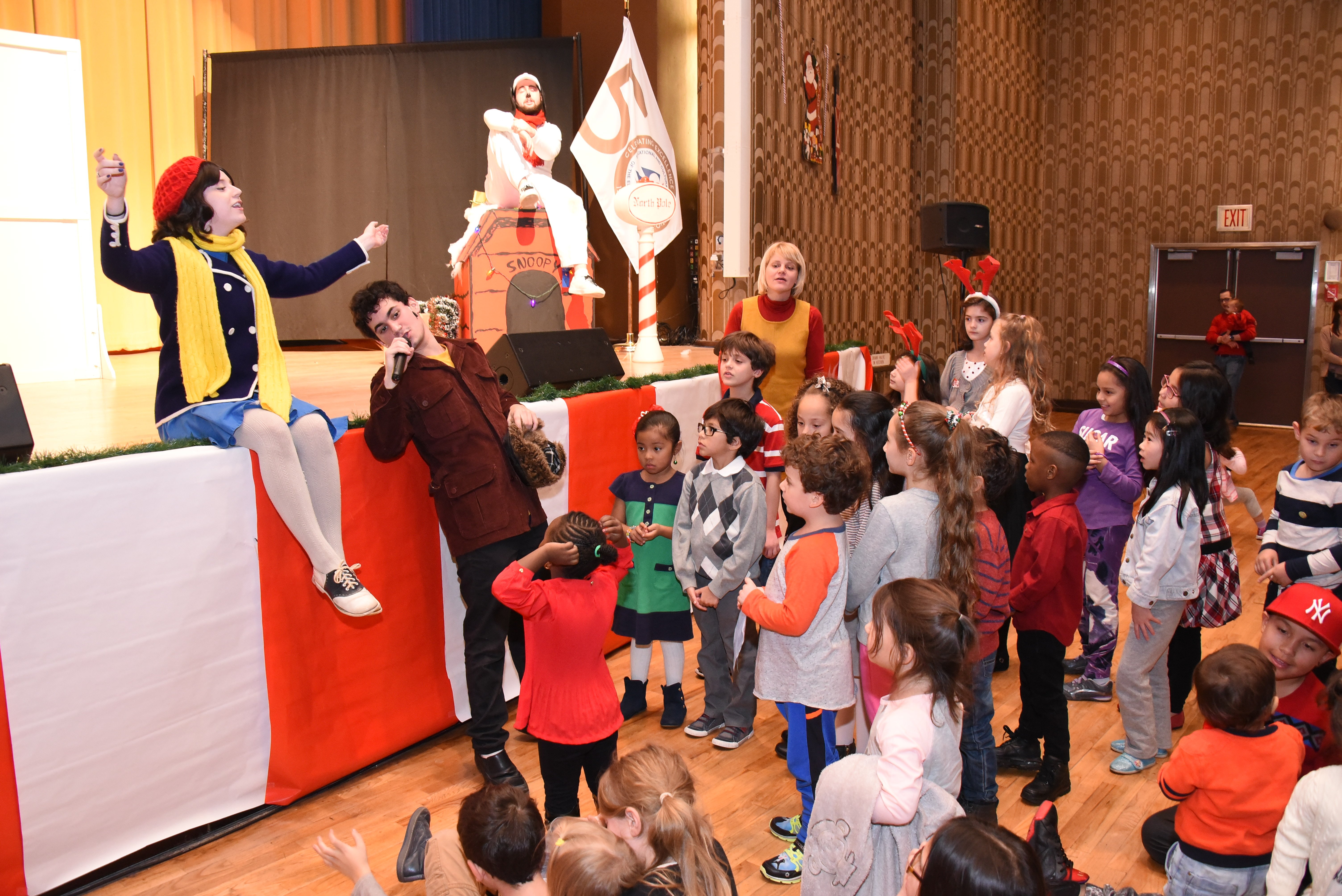 Many of the children join the cast of Charlie Brown for a holiday sing-a-long.
The Electric Industry Center auditorium was adorned with holiday decorations and music filled the room. Members and their families quickly made their way into the auditorium and it was clear a feeling of
excitement was in the air.
Michael A. Yee, Director of the Educational and Cultural Trust Fund thanked the Fund Trustees for bringing events like the holiday show and other cultural benefits to eligible members of Local 3, IBEW. Mr. Yee extended greetings from Christopher Erikson, Business Manager of Local 3 and Dr. Gerald Finkel, Chairman of the Joint Industry Board as well as the officers and trustees of the Fund.
Lance Van Arsdale, Assistant Business Manager and Trustee of the Fund, Annette Diaz, Trustee and Business Representative and James Robson, Business Representative of Local 3 were in attendance as well as James Jones, former Executive Board member and former Treasurer of Local 3.
The program was based on the comic strip "Peanuts" by Charles M. Schultz, book, music and lyrics by Clark Gesner. Michael discussed how Peanuts and the Gang have been around since he was a young boy and like Linus, he still had a blanket which he proudly displayed to the audience.
The show was performed by the Plaza Players, Ltd. presented by Kevin and Phyllis Harrington of Plaza Theatrical Productions, Inc. Once again Plaza filled the stage with decorations, music and a cast of characters including, Sally played by Emily Crowe, Lucy Van Pelt played by Allie Eibeler, Snoopy played by Jagger Kugler, Charlie Brown played by Joe Boccia, and Linus Van Pelt played by Robert Neil.
When Charlie Brown complains that there is too much materialism during the holiday season Linus steps in to explain the true meaning of Christmas. Songs included, Christmas Time Is Here, The Doctor Is In, Snoopy, My New Philosophy, Suppertime, Hark the Herald Angels Sing and Happiness. The voices were angelic and added much joy to the performance.
The audience was then invited to take part in a holiday sing-a-long, including such holiday classics as Jingle Bells, Rudolph the Red Nosed Reindeer, and We Wish You A Merry Christmas. The performers left the stage to join the children on the floor while everyone sang along.
The cast then set up in the lobby of the auditorium to take pictures with the families and wish them a happy holiday season.
Although the weather was spring-like, the families left the auditorium with a warm feeling of the holidays and all the joy that the season brings.