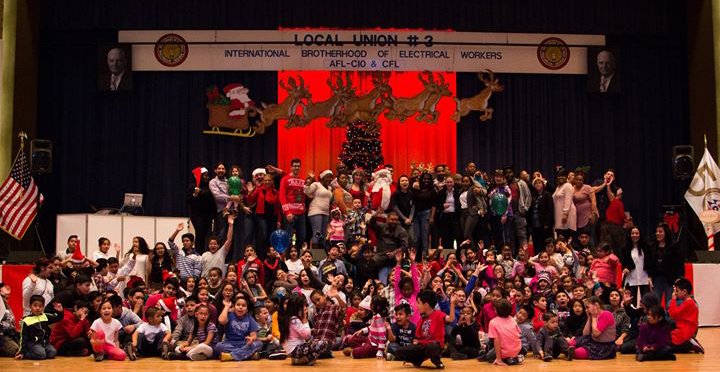 Local 3 apprentices and the many children who enjoyed the Annual Holiday Party.
On Saturday, December 19, 2015 the "A" apprentices of Local 3 held its annual holiday party for underprivileged youth. The event is completely funded by the apprentices. As a longstanding tradition, Local 3 apprentices volunteer their time and donate their money to transform the auditorium of the Joint Industry Board into a winter wonderland for over a hundred kids.
This year's "A" apprentice committee collaborated with Rob Solano, Executive Director of the non-profit organization Churches United for Fair Housing to bus the children from low-income families to the auditorium for a fun-filled day of celebrations, food, games, music, dancing as well as arts and crafts. The children danced along with characters such as Mickey Mouse, Elsa from Frozen and Princess Jasmine. The money donated by the "A" apprentice division throughout the year provided all of the children with gifts, wrapped by the apprentices, that they received from Santa Claus, along with Mrs. Claus. Thank you to all of the volunteers for creating an unforgettable holiday party for these children.